School Bus 3D Parking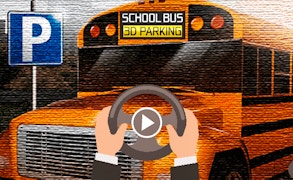 School Bus 3D Parking
Description
Welcome to School Bus 3D Parking, an engaging and exhilarating gaming experience. The game revolves around navigating a school bus into a parking spot without colliding with any obstacles. Besides careful parking, you'll be tasked with collecting coins scattered around the environment. With each successful level completion, the game grows more challenging, introducing new obstacles to steer clear of.
How to play
Operating the bus is simple with intuitive controls that allow you to move forward or backward and turn the bus either right or left. Navigate via on-screen steer and gas/brake pedals. The objective is to guide your school bus safely into the designated parking spot. But watch out! Striking walls or other obstacles will result in a failure. Collect coins along the way for bonus points.
Tips and Tricks
Patience is key in School Bus 3D Parking. Rushing will likely result in errors and crashes. Stay focused on collecting as many coins as possible, as these will increase your score dramatically. Practice your accuracy, precision parking is rewarded more than speed in this demanding game.
Features
Immersive 3D graphics that brings realistic parking scenarios.
Engaging gameplay offering multiple levels of increasing difficulty.
Precise control system for an optimal driving experience.
Coin collection feature adding an extra layer of challenge.
Fully playable both on PC and mobile without any downloads needed.
What are the best online games?