Save The Queen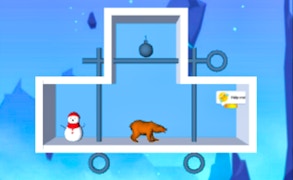 Save The Queen
Prepare to immerse yourself into the wondrous and challenging world of Save The Queen, a captivating blend of monster games, brain games, and escape games that will keep you on the edge of your seat.
A true gem in the universe of rescue puzzle games, Save The Queen takes you on an exhilarating journey where courage, quick-thinking and strategy are your only allies. Assume control of the daring Olaf as he embarks on a perilous mission to rescue the damsel in distress – a storyline as old as gaming itself but spun with an exciting new twist.
And oh! The suspense... Click your screen to pull out an iron bar and forge ahead in your quest. But beware! For monsters lurk in every corner. Employing intuitive mechanisms to kill these beasts is crucial or else be prepared to watch your rescue plan go up in smoke.
The fantastic blend of danger, strategy, and adrenaline make Save The Queen one of the most exciting monster games where not just brute force but also brains play a vital role.
This game keeps its promise as one of the top-ranking brain games, making you think on your feet and hone your problem-solving abilities. With every level bringing its own set of challenges, this game truly tests your wit.
Evoking memories of classic escape games, Save The Queen has you navigating through treacherous paths and solving complex puzzles that will have any gaming enthusiast's heart pounding with excitement.
So if you're a fan of puzzle games that stimulate both fear and thought, then buckle up for this thrilling ride because Save The Queen is not just a game – it's an intriguing brain-busting adventure that's bound to leave you yearning for more!
What are the best online games?