Save The Egg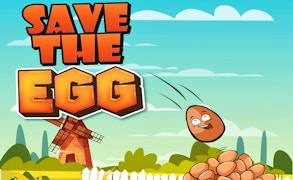 Save The Egg
Description
In Save the Egg, players enter a unique world where an egg from a chicken is endangered after a truck mishap. The goal is to navigate a challenging terrain, steering clear from various obstacles that threaten the egg's survival. But the fun doesn't stop there, gold eggs and coins are scattered across your journey which you can collect to gain points and purchase upgrades for your egg and truck.
How to play
The gameplay involves simple tapping or clicking mechanics. Just tap on the screen to jump over obstacles and collect coins as well as golden eggs. These collected items can be used for buying upgrades that will improve your performance in the game, ensuring longer gameplay and higher scores.
Tips and Tricks
Timing is key in this game. Make sure to time your jumps just right to successfully avoid obstacles while collecting coins and golden eggs. Also, don't forget to utilize your coins wisely on relevant upgrades that will help you cover more distance—invest in both your egg and truck for optimal results.
Features
Ease of play with simple click or tap controls.
A myriad of exciting upgrades available for purchase using collected coins.
Crisp graphics that create a captivating gaming environment.
A unique concept where players save an egg post-truck collision.
No end limit - meaning endless hours of fun!
What are the best online games?