Santa Magic Christmas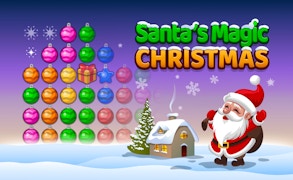 Santa Magic Christmas
Description
Set in the enchanting landscape of Christmas wonderland, Santa Magic Christmas is an addictive puzzle game that will keep you hooked. The mission is to assist Santa in his quest to retrieve lost presents. With a variety of power-ups at your disposal, you are tasked with completing levels by matching three or more identical items. Experience the bliss of the festive season while sharpening your strategic skills.
How to play
The game operates on simple click or tap controls, making it immensely user-friendly. To play, tap on a jewel and swap it with adjacent ones to create a match of three or more similar jewels. Upon successful matching, Santa collects the corresponding gifts. Progress through the game by completing each level's objectives within the designated move limit.
Tips and Tricks
To maximize your score and efficiency, aim for four or more jewel matches. They yield special power-ups that can clear entire rows or columns, facilitating swift level completion. Be wary of your move limit - strategize and plan ahead.
Features
Picturesque Christmas-themed graphics for an immersive experience.
A variety of challenging levels that test your strategizing abilities.
Intriguing power-ups to enhance gameplay dynamics.
User-friendly tap controls suitable for all age groups.
What are the best online games?