Santa Hill Climbing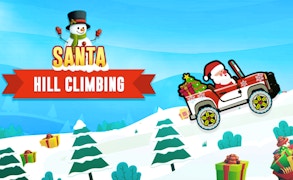 Santa Hill Climbing
Accelerate into the Christmas spirit with the enthralling Santa Hill Climbing, a standout amongst other Christmas games that fuses the exhilarating elements of car games and driving games. Unleash your driving skills, navigating Santa on a challenging, undulating terrain, where every bump is a test of your control and every incline tests your handling prowess.
Fuel up on festive fun as you take hold of the reins and combat gravity with gusto. The fine balance between speed and control is pivotal in this game. It's not about how fast you can go; it's about how skillfully you can maintain intensity over varying landscapes whilst conserving fuel - a true test for any professional driver.
In Santa Hill Climbing, the objective isn't just to journey across hills but also to gather as many gifts as possible. You're not just racing against nature; you're racing against time and yourself, aiming to break your own records. This added nuance brings an extra layer of strategy and excitement, putting this game in pole position amongst other festive car games.
In terms of graphics, the visual appeal of Santa Hill Climbing is undeniable. With its vivid palette representing the cheerful yuletide season perfectly, this Christmas game does more than simply entertain - it captivates!
Get ready to rev up your holiday spirit with this exciting fusion of car games and Christmas festivity. Whether you're a fan of driving games or simply looking for some festive fun, Santa Hill Climbing delivers an experience unlike any other. Good luck on your journey!
What are the best online games?