Russian Cars Jigsaw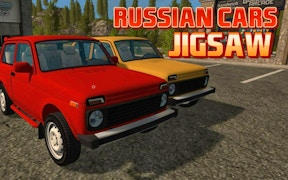 Russian Cars Jigsaw
Have you ever imagined a fantastic fusion of car games and brain games, specifically tailored to entertain the young gamers? Well, your dreams just turned into a reality as Russian Cars Jigsaw arrives on the scene, blending the thrill of automotive world with challenging puzzles.
Russian Cars Jigsaw is a free online game that unites the exhilarating realm of puzzles and jigsaw games under one immersive platform. It's more than just another addition to the universe of Games for Kids. It's an intelligent mix of learning with entertainment that bridges the gap between amusement and mental exercise.
The rules are simple yet engaging. You can choose from six vibrant images with Russian cars as their central theme, each image offering a unique puzzle experience. Then, you can set your challenge level from three intriguing modes - easy with 25 pieces, medium with 49 pieces, and hard with 100 pieces. Each level not only tests your problem-solving skills but also enhances your sense of spatial recognition and bolsters cognitive development.
The beauty of this game lies in its simplicity and versatility. The easy mode is ideal for beginners who have just started their journey into the world of puzzle games. The medium level is designed for those who want to hone their skills further while the hard level offers an intense brain exercise for seasoned players who love a good challenge.
If you are in pursuit of a game that not only pacifies your craving for car-themed graphics but also stimulates your mental prowess, then Russian Cars Jigsaw is your go-to game. It's not just about fun; it's about fun that makes you think!
In conclusion, whether you're a newbie looking to explore brain games, or an experienced player seeking new challenges, Russian Cars Jigsaw is an easy recommendation. It's engaging gameplay and educational twist make it an excellent choice amongst other puzzle laden car games. Dive into this cerebral adventure today!
What are the best online games?