Russian Battle Royale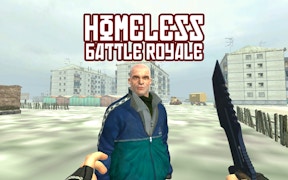 Russian Battle Royale
In the vast universe of action packed games, a new contender has entered the ring - Russian Battle Royale. This game ingeniously combines elements from classic gun games, exciting sword games, thrilling battle games, strategic battle royale games, and adrenaline-pumping survival games to deliver a unique gaming experience.
Russian Battle Royale is set against the backdrop of a sprawling Russian city, loaded with dark alleyways and towering buildings. The city serves as a battleground where you need to show your worth by battling hostile gopniks in the neighborhood. And remember, it's not just about survival but about winning the war.
As you traverse through this vast urban jungle, you'll find an array of different weapons, ranging from powerful guns to razor-sharp swords. The dynamic weapons system offers not only variety but also excitement as no two battles are ever the same, making it a standout among other war games.
The real joy of Russian Battle Royale lies not just in its action-packed gameplay but also in its strategic elements. Players must use their wits and tactics to survive and conquer. Simply put, it's one of those battle royale games where brawn and brain go hand in hand.
In conclusion, Russian Battle Royale offers a thrilling blend of gun games excitement, sword games skills, battle royale strategy, and survival game tension bundled into an epic war game experience. If you're looking for an action-packed adventure that keeps your heart pounding till the last second, Russian Battle Royale is worth checking out!
What are the best online games?