Run Rich 3D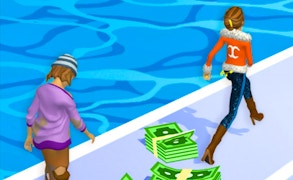 Run Rich 3D
Welcome to the world of Run Rich 3D, where every decision you make paves your way towards wealth and wisdom. This captivating entrant in the genre of Hyper Casual Games captivates with its unique blend of fun and learning, making it one of the must-try running games.
The game embarks on an exciting journey revolving around financial decision-making. It challenges you to ponder: will you spend your time frivolously surfing the web, or will you buckle down and hit the books? Run Rich 3D plays out as a testament to the power of thoughtful decision-making, molding even the most prodigal players into rational beings armed with profound economic insight.
With its eye-catching graphics and engaging gameplay, Run Rich 3D redefines what it means to have fun while learning. The charmingly addictive nature of this fun game, combined with its subtle educational undertone, sets it apart from its counterparts in the crowded gaming market.
The beauty of Run Rich 3D lies in its simplicity. The controls are intuitive and easy to master. As you navigate through a variety of scenarios, players are challenged to make rational decisions which can make significant impacts on their virtual wealth - much like in real life!
If you've always craved for a game that strikes just the right balance between fun and education, then look no further than Run Rich 3D! This outstanding entrant in the Hyper Casual Games genre is here to redefine gaming as we know it – providing hours upon hours of running fun while also imparting life-changing economic wisdom.
In conclusion, if you're yearning for a rewarding and enjoyable gaming experience that also leaves you smarter at the end than when you started playing, then your search ends with Run Rich 3D. Give it a whirl today!
What are the best online games?