Rugby.io Ball Mayhem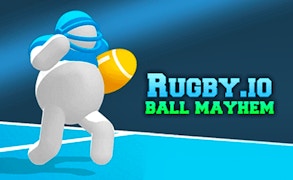 Rugby.io Ball Mayhem
If you're a fan of ball games and football games, the online world of Rugby.io Ball Mayhem is sure to provide an adrenaline-fueled experience that will keep you on your toes. Rugby.io Ball Mayhem thrusts you into a virtual stadium where tenacity, quick decision-making, and teamwork are the keys to victory.
This game isn't just about scoring touchdowns; it's a chaos-ridden battle against other teams. The whole premise of the game is hedged upon your ability to tackle, dodge, and weave past opponents with skillful precision. This isn't your standard ball game, this is Rugby.io Ball Mayhem!
In the world of .io games, Rugby.io Ball Mayhem stands out not only for being an innovative take on football games, but also for its engaging gameplay mechanics. You're not stuck with standard football manoeuvres here - the developers have injected unique abilities that allow you to tackle opponents in style.
The graphics are visually appealing without being overly complex – an asset that contributes to seamless gameplay without lags or glitches. The controls are easy to master, meaning beginners won't struggle to get into the game - yet nuanced enough to provide depth and strategic engagement for seasoned players.
A standout among other .io offerings, Rugby.io Ball Mayhem demonstrates how simplicity can yield complexity, offering layers upon layers of strategy for those who dare to dive deep into its gameplay mechanics.
Much like a real-life rugby match, this game will test your quick thinking skills and agility under pressure. Are you prepared to prove yourself as the best team in the world? Then strap on your boots and dive headfirst into the mayhem that is Rugby.io!
What are the best online games?
TAGS