Rotator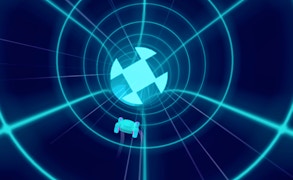 Rotator
Fasten your seatbelts and gear up for an exhilarating ride in the world of Rotator, a new sensation in the realm of car games that takes you on a thrilling journey through space. This game provides an adrenaline-pumping experience that is sweeping across the community of gamers, offering endless hours of high-octane enjoyment.
This game doesn't merely tick all the boxes of what makes great driving games; it actively redefines them. Rotator seamlessly integrates elements of strategy and skill, thus making its mark as a standout in the genre of Skill Games.
The premise is simple yet compelling: steer your fast car on a tubular space highway, dodging obstacles that appear in your path. However, within its simplicity lies an addictive challenge. This isn't just about speed – it's about precision, timing, and the ability to handle pressure. One false move could mean disaster.
The controls are smooth and intuitive, each manoeuvre executed with finesse mirroring a real-life driving experience. The graphics are stunning and immersive, transporting you directly into a high-speed galactic chase. The soundtrack accompanying this visual treat sets your pulse racing even before you hit the track.
All said and done, Rotator is one game that should not be left untouched by any fan of car or driving games. It's not just a game, it's an amalgamation of intense action sequences and strategic planning rolled into one single package. By coupling quick decision-making skills with precise controls, Rotator will keep you hooked enough to make you lose track of time.
So step on the gas and get ready for a rollercoaster ride through space with Rotator! This game is set to deliver one swift blow after another to your boredom while challenging your gaming skills like never before!
What are the best online games?