Rotating Disks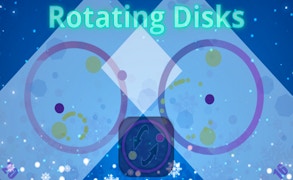 Rotating Disks
Description
Enter a world of color coordination and mental agility in Rotating Disks! In this fun and challenging game, your task is to match bouncing balls with their respective colored circles. The game evolves around rotating disks, which are the platforms for the balls. The simplicity and complexity of the game coexist, making it an endlessly addictive experience.
How to Play
The game control is a piece of cake! Simply touch the screen to switch the side of a ball. Pay attention to the color of each rotating disk and ensure that each ball lands on its corresponding color. As you progress, the speed increases, demanding quick reflexes and precise timing. No ball should end up in a wrong colored disk!
Tips and Tricks
Your success lies in your reflexes and concentration. Always keep your eyes on the balls and swiftly decide which side they should go. Remember, a single mistake can cost you the game. To boost your points, aim for perfect matches - dropping balls in their accurate colored slots.
Features
Easy-to-use controls: One touch to swap sides!
Addictive gameplay: The more you play, the more you want to beat your high score.
Captivating graphics: Bright colors that hold your attention.
Infinite replayability: With increasing speed at each level, there's always a new challenge waiting!
What are the best online games?