Rope Bawling 3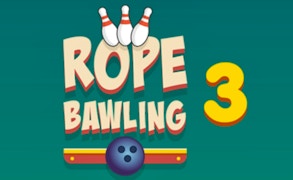 Rope Bawling 3
Prepare to get your mind whirling and fingers twitching with the latest entry in the addictive world of puzzle ball games. Introducing Rope Bawling 3, a unique blend of classic tenpin bowling games and brain-busting puzzles guaranteed to keep you on your toes.
Stepping up from its predecessors, Rope Bawling 3 has intricately interwoven bowling action with engaging physics-based puzzles. Your mission is simple yet exhilarating. You need to chop ropes, skillfully guide bowling balls towards the target pins while navigating a maze of lasers, thorns, chains and even the relentless force of gravity.
Unlike your standard brain games, Rope Bawling 3 adds more elements of fun and suspense by introducing new challenges. Obstacle cubes can only be shattered by an exclusive fireball - adding a layer of strategic planning to your gameplay. Pipes blasting powerful air flows add an exciting twist, forcing you to rethink and adapt your strategy under pressure.
The spotlight here is on gravity control - a remarkable feature unparalleled in other ball games. Testing both wit and reflexes, Rope Bawling 3 keeps you engrossed with its clever level designs that demand ingenuity and precision.
In summary, Rope Bawling 3 is a brilliant addition to the repertoire of engaging ball games with its mix of mind-boggling challenges and adrenaline-pumping action - all center-staged in an intriguing world of angles, forces and velocity. Whether you're a fan of bowling games or just love testing your mettle against mind-stirring brain games, Rope Bawling 3 surely hits the strike!
What are the best online games?