Rope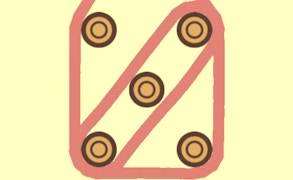 Rope
Soar to new heights in intellectual entertainment with the stunningly brilliant puzzle game, aptly titled Rope. Boasting an array of mind-bending challenges under the banner of brain games, Rope sets itself apart in the crowded market with its unique blend of simplicity and complexity that ensures a multitude of engaging moments.
Rope gracefully dances on the intricate line between creativity and logical thinking, pushing you into uncharted territories of your cerebral cortex. It isn't just a game; it's an invitation to flex your mental muscles and challenge your cognitive limits.
The premise is delightfully simple - rope around all of the dots, but beware - stray away into the treacherous blue area, and it's game over. The game challenges you to think two steps ahead and plan your every move meticulously. Each level ups the ante, mixing familiar patterns with unexpected twists that will have you ponder, plot, and play again.
The beauty lies in its approachable complexity. Yes, it's about ropes, shapes and spaces. But it's also about strategy, patience and the thrilling sense of achievement when you've managed to untangle a particularly tricky puzzle. The vibrant color schemes, coupled with intuitive controls, make for an aesthetically pleasing experience.
In conclusion, Rope is not just another drop in the ocean of brain games. It brings a fresh twist to classic puzzle gameplay with its beautifully designed challenges and satisfying problem-solving elements. Whether you're a veteran gamer looking for new intellectual challenges or a puzzle enthusiast seeking your next obsession, give Rope a whirl. There's no denying that this fascinating weave of tension-filled gameplay will tie you down for hours on end.
What are the best online games?
TAGS