Roll Orange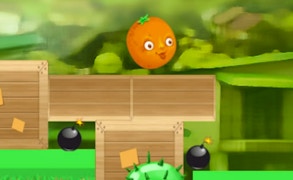 Roll Orange
Description
In Roll Orange, your main goal is to safely guide an adorable orange through a maze of boxes and platforms back to the ground. As you play, the orange's adventure gets trickier, with bombs and cacti making an appearance. The challenge lies in ensuring that your agile citrus friend avoids these obstacles while tumbling towards safety. A limited number of lives adds a layer of suspense, although skillful navigation may earn extra chances to keep rolling on.
How to play
To play Roll Orange, you need to carefully remove boxes and platforms in order for the orange to reach the ground safely. Be cautious as there are obstacles like bombs and cacti that can cost you lives. The game starts with five lives, however, through clever strategy and playing effectively, you can earn more. If all lives are lost, it's game over.
Tips and Tricks
Familiarize yourself with the structure of each level before planning your moves in advance. Also, remember that not all objects are hazards; some boxes or platforms might provide a safe pathway for our citric hero. Always aim for a safe landing spot when removing obstacles.
Features
Puzzle-based Gameplay: Requires strategic thinking to navigate through levels.
Dynamic Obstacles: Constantly evolving challenges keep gameplay fresh and exciting.
Cute Main Character: An endearing orange makes every tumble worthwhile.
Bonus Lives: Extra chances rewarded for skillful navigation add suspense and incentive to score higher.
What are the best online games?