Road of Fury: Desert Strike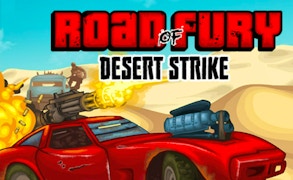 Road of Fury: Desert Strike
Dare to embark on a heart-pounding, adrenaline-spiking driving journey across the merciless wasteland in one of the most intense car games of the year? Then buckle up and step into the ruthless world of Road of Fury: Desert Strike. This game brilliantly merges driving games and action-packed gun games, delivering a thrilling experience like no other.
The central protagonist, Rass, is tasked with an important mission from the Corp to take down the despotic rule of the Horsemen gang and their nefarious boss Duke Mo. With each enemy takedown, you earn rewards from the cash-strapped Corp. The stakes are high, but so are the rewards.
This game seamlessly merges thrilling car chases with strategic combat. Not only do you have to master precision driving in a harsh desert environment, but you have to simultaneously wield weapons with deadly accuracy. Innovative car upgrades and hiring skilled drivers add exciting layers of strategy to this brutal survival game.
The novelty factor in Road of Fury: Desert Strike makes it more than just another addition to the genre of car or driving games. It's not often we come across a thrilling blend of high-speed chases, dynamic combat, immersive strategy elements and palpable tension amidst a captivating storyline.
Road of Fury: Desert Strike stands as an embodiment of fury itself. A refreshing break from generic car games out there with its unique gameplay dynamics that keep you on the edge at every turn. This game is an electrifying joyride that promises gamers a taste of what it's like when racing games, meet action-packed gunfights in a true test of wit and skill!
In conclusion, whether you are a fan of epic car chases or strategic gun battles - or better yet both - Road of Fury: Desert Strike guarantees an unforgettable gaming experience that is bound to leave your pulse racing!
What are the best online games?