Rally Point 2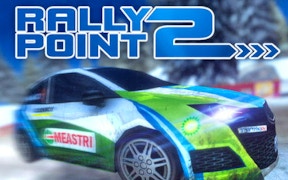 Rally Point 2
If you have a need for speed and a thirst for adrenaline, then Rally Point 2 is the ultimate pit stop for you. In the thrilling realm of car-games and driving-games, Rally Point 2 demands more than just fast reflexes - it tests your strategy, precision and control.
The exhilarating challenges begin with a selection of your road warrior. With vehicles like the agile Spryster to choose from, the game entices you right at the starting line. But buckle up tight, as what follows is an intense fast-paced journey through diverse routes - from breathtaking snow-covered landscapes, enchanting forest trails to scorching desert circuits.
The objective? Beat the ticking clock and prove your mettle on these challenging terrains. Perfecting your time trial runs will not only earn you bragging rights but also unlock new high-performance beasts like the powerful Evader. It's more than just a chase against time - it's a testament to your driving prowess.
But beware! A unique twist in this adrenaline-fueled ride is the nitrous system. Tap into its potent power to gain that much-needed speed boost, but use it wisely. Too much reliance on it can turn your vehicle into scrap metal instead of sprinting past that finish line. This strategic mechanic adds an interesting layer of complexity and risk to a seemingly straightforward racing game.
All in all, Rally Point 2 offers an incredible blend of strategy and speed – making it an unmissable joyride for all racing fanatics out there. So put that pedal to the metal, feel the roar of engines under your control and blaze down these tracks in one of the most exciting entries in car-games genre yet!
What are the best online games?
Tags