Ragdoll Gangs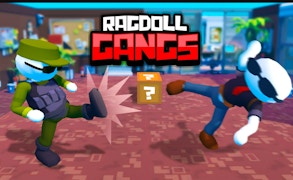 Ragdoll Gangs
Step into the gritty world of street brawling with Ragdoll Gangs, a pioneering addition to the world of 2 player games and battle games. Bursting onto the fight-game scene, Ragdoll Gangs introduces us to an intriguing world bursting with raw combat energy, intense rivalries, and unforgettable ragdoll characters.
Ragdoll Gangs isn't just about punches and kicks. The game offers two distinct modes, Adventure Mode, for those who prefer the thrill of single player combat, and Arena Mode, a haven for players seeking fierce one-on-one or two-player battles. In each mode, you are pushed to use strategic maneuvers, quick reflexes and your fighting prowess to emerge victorious.
In Adventure Mode, you'll be tasked with tackling six challenging levels featuring diverse scenarios. Whether it's eliminating your enemy in a no-holds-barred fight or strategically shoving them from towering heights, each level uniquely tests your skills. Please note - this mode caters exclusively for the lone fighters among us!
Then we have Arena Mode. Here, you can choose to go solo against brutal CPU opponents or challenge a friend locally for some exhilarating two-player action. The objective is straightforward – first one to score three points wins! But don't be fooled. The seemingly simple goal belies the true complexity of the intense fights you'll face.
In conclusion, Ragdoll Gangs stands as an exemplary representative in 2 player games and battle games genre. A superb blend of strategic fighting mechanics, engrossing gameplay modes and ragdoll physics make it an absolute must-have for all fans of fighting games.
What are the best online games?