Racing Cars Puzzle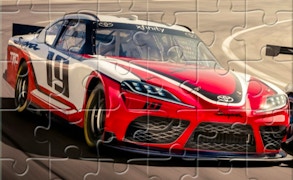 Racing Cars Puzzle
For all the puzzle enthusiasts and car game aficionados out there, let's indulge in an exciting journey through the thrilling world of Racing Cars Puzzle. Power up your mental engines, as this is not just about fuel and flare but also a great way to flex your cognitive muscles!
The name 'Racing Cars Puzzle' may sound simple at first glance but be prepared to be captivated by the blend of mind-boggling jigsaw elements and exhilarating race car imagery. It isn't just a car game, it's a multifaceted brain training exercise that spins your neurological wheels and offers four unique modes of play - 16 pieces, 36 pieces, 64 pieces and 100 pieces.
All the hardcore puzzle solvers will revel in the challenge of piecing together a stunning racing car image from a 100-piece spread. For those who crave less complexity, fret not; you can still enjoy the game with lower piece modes that are no less fun nor engaging.
In this perfect jigsaw puzzle game, each twist and turn unravels an intriguing new pathway towards finishing your racing car masterpiece. With six different images to choose from, every successful completion fills you with a sense of achievement that is as rewarding as crossing the finish line first in an adrenaline-pumping race.
Racing Cars Puzzle isn't just about solving puzzles; it's about sharpening your brain while immersing yourself in vehicular velocity. It blends the challenges of brain games with the raw intensity of car games to deliver an unmatched gaming experience. So what are you waiting for? Fuel up your cerebral vehicle and get ready for an unstoppable ride towards victory lane!
Rally up, racers! It's time to swap gears from regular puzzle games and take that victory lap with Racing Cars Puzzle!
What are the best online games?