Racing Cars Jigsaw Challenge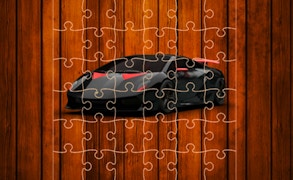 Racing Cars Jigsaw Challenge
Step into the thrilling world of Racing Cars Jigsaw Challenge, a perfect fusion of fun and intellect, specifically designed for those who love the sound of engines and the joy of solving puzzles. Engulfing you in its entertaining realm, this game successfully marries the genre of puzzle and jigsaw games, promising an exciting challenge for both beginners and seasoned gamers alike.
The game has a generous selection of 12 beautifully illustrated images exclusively tailored for car enthusiasts. The intricate details on each image add other layers to the game, making each puzzle-solving experience unique. As a player, your mission is simple yet engaging - to drag the pieces to their original position. Revving up your strategic thinking and enhancing problem-solving skills with every play.
The beauty of Racing Cars Jigsaw Challenge lies in its flexibility. It respects your pace and invites you to solve puzzles at your leisure without any time pressure. This feature makes it an ideal choice among games for kids, offering them a healthy mental exercise wrapped in fun-filled gameplay.
One of the game's most significant assets is its price: it's absolutely free! Not to mention that it's easily accessible online. Adding immense value to its feature-rich package and its replayability index sky high, making it an excellent choice as one among addictive car games.
So get ready to fire up those neurons, buckle up for some high-octane puzzle solving with Racing Cars Jigsaw Challenge! The game continually updates with more enthralling puzzles guaranteeing endless fun. Try it out today and don't forget to come back for more mind-boggling jigsaw action!
What are the best online games?
Tags