Racing Cars Game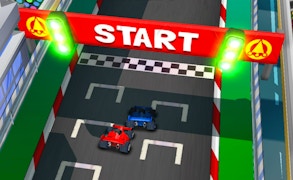 Racing Cars Game
Welcome to the exhilarating universe of Racing Cars Game, the ultimate destination for adrenaline junkies! This game is a revelation for both car games and driving games enthusiasts that guarantees an unforgettable experience filled with heated competition, thrilling action, and pulse-pounding moments.
The essence of this game is its impressive ability to capture your competitive spirit in a way that few others can. With every race against fiery opponents, you're not just driving; you're battling for supremacy. The stakes are high with every contest as you earn precious prize money, unlocking cool new cars and challenging tracks along the way.
This isn't just about winning a race; it's about conquering all tracks. Racing Cars Game offers an engaging multi-level experience, where each victory takes you a step closer to becoming the uncontested champion. It's this element of progression that sets Racing Cars Game apart from ordinary car games.
Perhaps one of the most impressive features is its global leaderboard. Compete with players worldwide for the best lap times and get ready to rev your engines like never before! This driving game doesn't just allow you to compete; it compels you to dominate!
In conclusion, Racing Cars Game is not only a standout in the realm of car games but also an essential must-have driving game. Its perfect blend of vibrant visuals, intense competition, diversified tracks, and high-speed thrills make it a gaming experience like no other. Ease off the brakes, push down on the accelerator and drive into a world where only speed matters!
What are the best online games?
TAGS