Race Time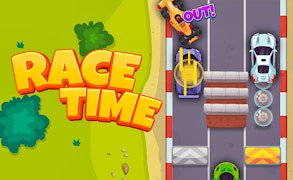 Race Time
Description
Rev up your engines for Race Time, an exhilarating online car racing game that tests your speed and strategy. Pick from the swiftest vehicles, enhance their abilities and outstrip your opponents on the track. This game also introduces a super boost feature, allowing you to catapult rivals off the track and secure upper positions. Strive to finish the race in record timing and show off your skills in the online leaderboard.
How to Play
To play Race Time, select a high-speed vehicle and boost its performance with upgrades. During races, keep an eye on the super boost level; when it hits level 5, double-click to activate it. This gives you a speed surge, enabling you to knock off competitors. Finish each race as quickly as possible to earn points and climb up the rankings.
Tips and Tricks
Timing is crucial in Race Time. Learn when to use your super boost for maximum impact. Make sure you're close enough to opponents before activating it, ensuring you knock them off course. Keep an eye on upgrade opportunities between races — it could make all the difference in your next race.
Features
Super Boost: Charge up this potent power to gain an edge during races.
Vehicle Upgrades: Enhance speed, handling, and other aspects of your car.
Online Leaderboard: Compete against friends and other players globally.
Addictive Gameplay: Engaging mechanics that keep players coming back for more.
What are the best online games?
Tags