Race Right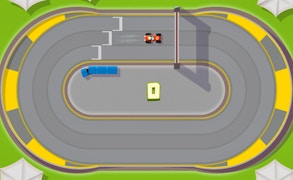 Race Right
Get ready to rev up your engines and flex those virtual driving muscles as we delve deep into the pixelated streets of Race Right, a game that's rapidly carving out a niche in the world of car games. Your challenge is simple: turn your car right and navigate through numerous rounds in this captivating minimalist skill game.
As soon as you plunge into the pixel-art environs of Race Right, you're immediately struck by its beautiful simplicity. The streamlined design perfectly complements its clear-cut objective - making it both easy to grasp for beginners and challenging enough for seasoned gamers. As is typical with racing games, Race Right quickly draws you into its thrilling pace, each round more intense than the last.
What truly makes Race Right a standout amidst the sea of driving games is its emphasis on skill. This isn't just about speed; it's about how effectively you can maneuver your vehicle within the confines of an increasingly challenging track. One wrong move and it's game over - a thrilling challenge that really gets your adrenaline pumping.
This relentless demand for precision makes Race Right just as much a robust test of your skills as any game in the skill games genre. It marries the kinetic excitement of racing games with meticulous strategic planning, each round becoming a tense match of wits between you and the ever-twisting track ahead.
In conclusion, whether you're an avid fan of car games or simply looking for something new to test your skills, Race Right delivers with sublime effectiveness. It's all about tight turns and high stakes - creating an enthralling experience that stays with you long after you've turned off your screen. If honing razor-sharp reflexes amidst high-speed thrills sounds like your idea of fun, then buckle up for some serious gaming excitement with Race Right!
What are the best online games?