Quiz Categories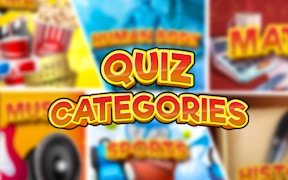 Quiz Categories
Description
Quiz Categories is a riveting brain-teaser that lets you test your knowledge across various themes. Whether you're passionate about films, have an ear for music, or are fascinated by the world of biology, this game has a category just for you. The quiz questions are captivating and will keep you on your toes, making it an exciting trivia pursuit.
How to Play
The mechanics are straightforward. Select a theme that suits your interest and answer the multiple-choice questions that follow. Your progress in the game is defined by how many questions you answer correctly. Just click on the correct answer to move on to the next question. The game gets more exciting and challenging with each level.
Tips and Tricks
If you're unsure about an answer, don't rush! Take your time to weigh all possible answers before making a selection. Remember, every correct answer helps you progress in the game, while every incorrect one could set you back.
Features
Vast array of topics to choose from such as movies, music, and biology.
Different difficulty levels make the game suitable for both beginners and trivia masters.
Fascinating trivia questions that provide both entertainment and education.
Sleek design makes navigation easy, ensuring optimal gaming experience.
What are the best online games?