Puppy Blast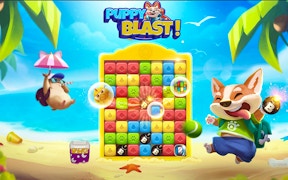 Puppy Blast
Prepare to have your mind blown and your heart warmed in one fell swoop as Puppy Blast, a match 3 game like no other, meshes the world of adorable animal games with tantalizing puzzles. This enchanting emporium of cuteness will lure you into its addictive vortex with its charming graphics and engaging gameplay.
In an arena where match 3 games are rarely original, Puppy Blast stands out from the crowd. It rises above the usual match-3 bubble-popping monotony, taking players on a unique journey where they explore hundreds of challenging puzzles alongside an adorable puppy companion.
The game's spine-tingling suspense grows, level by level, puzzle by puzzle. With each triumphant blast, you not only clear the playing field but also foster an even deeper bond with your puppy pal - heightening the stakes in this already high-stakes environment of animal games.
Puppy Blast does a phenomenal job maintaining player interest and excitement. Every match leads to exhilarating explosions that cascade across the screen - a delightful spectacle for both casual gamers after some light-hearted fun and hardcore puzzle enthusiasts seeking their next big challenge.
It isn't often you find an experience as addictively puzzling as this nestled in the realm of animal games. So whether you're an avid dog lover or just keen on mind-bending match 3 challenges, Puppy Blast promises hours upon hours of enjoyable puzzle-solving escapism.
In conclusion, Puppy Blast is a real gem among both puzzle and animal games alike. Its blend of heart-melting puppy love and brain-teasing gameplay creates an engaging milieu that's hard not to love. Prepare to embark on a thrilling journey filled with unabashed joy, relentless challenges, and endless blasts!
What are the best online games?