Punch Boxing for Dummy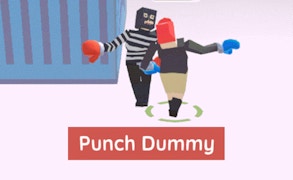 Punch Boxing for Dummy
Description
Get ready to throw down in Punch Boxing for Dummy, an action-packed, arcade-style fighting game. Engage in intense one-on-one matches as you bob and weave, delivering powerful punches to take down your opponent. Immerse yourself in dynamic, skill-based combat where strategy and quick reflexes are equally important.
How to Play
To play, use on-screen controls to move and punch. Timing is essential, so anticipate your opponent's moves and counter them effectively. Progress through the game by defeating opponents, unlocking new levels and earning rewards to upgrade your fighter.
Tips and Tricks
Mastery of timing is the key to success. Anticipate your opponent's attacks and dodge strategically. Mix up your offense with a combination of light jabs and powerful punches. Always remember to block effectively when needed.
Features
Fast-paced arcade fighting: Straightforward controls make it easy to learn, but hard to master.
Skill-based combat: Strategy is as important as quick reflexes.
Progressive difficulty: Each opponent gets tougher, testing your skills.
Reward system: Earn upgrades for your fighter.
What are the best online games?