Protect My Dog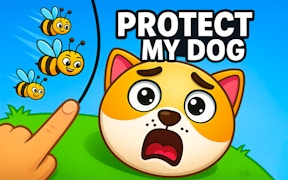 Protect My Dog
Immerse yourself in the delightful world of Protect My Dog, a captivating fusion of animal games and drawing games designed especially for kids. This innovative contender in the domain of Games for Kids takes puzzling to a whole new level, integrating quick thinking with creative problem-solving. Packed with 50 brain-teasing levels, the stakes ramp up at every stage, challenging young minds to devise increasingly ingenious strategies to protect their furry friend.
The task is simple – safeguard your adorable pet from mischievous bees and an array of environmental hazards like lava and thorns. However, achieving it requires imaginative thinking and sharp reflexes. It's a dash of fun, a pinch of challenge and a heaping spoonful of addictive gameplay that perfectly caters to fans of brain games.
In Protect My Dog, the tool you wield is not a sword or a shield but your creativity as you sketch deft defensive lines to ensure your pup's safety. So, strap in for an exciting journey through varying terrains, combating sly bees and tricky obstacles. The backdrop might change, but your mission remains unwavered - protect your loyal canine at all cost!
This isn't your typical arcade game; it's a grand blend of strategy, quick-wit and artistry that translates into hours of fun for youngsters. Whether they're strategizing defenses against buzzing bee attacks or sketching barriers against scorching lava flows, kids will find their gray cells firing on all cylinders!
In summary, Protect My Dog, with its combination of riveting gameplay and charming aesthetics hits the sweet spot amongst puzzle games. It's more than just another title in the genre; it's an experience that takes you on an exciting journey brimming with challenges and cheerfulness.
What are the best online games?