Power Boat Racing 3D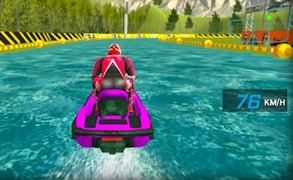 Power Boat Racing 3D
Strap on your life-vest and prepare to dive into a pulsating world of high-speed aquatic action with the riveting Power Boat Racing 3D. As one of the standout entries in the realm of motorcycle games, this is not your typical driving game. Power Boat Racing 3D crashes through the monotony, offering a tantalizing mix of adrenaline-fueled stunts and heart-stopping challenges.
In this ingenuously crafted water ride, you don't just get to be the driver, you stake your claim as a master power boat rider coursing across captivating circles strewn across stunning levels. Every level is a thrilling arena, urging you to tap into your primal instincts and harness your power boat riding skills to confidently unlock more exhilarating stages.
Discarding any circle while riding tosses completeness out the window - a testament to its ruthless demand for precision that sets it apart from other generic fun games. Yes, this game reveals its true beauty in its unwavering commitment to realism; when you mount that water motorbike and feel the spray of cyber-sea against your face (almost!), Power Boat Racing 3D morphs from being another one of those driving games into a phenomenally immersive experience.
In conclusion, Power Boat Racing 3D drives home an unforgettable fusion of high-octane stunts and intense challenges. Its ability to impart real-life control of a water motorbike race has set it soaring leagues above other motorcycle games. It genuinely ups the fun quotient by providing an environment that is as beautiful as it is challenging. So grab that helmet (virtual starts count too), rev up that engine, and dive headfirst into this unmissable racing adventure!
What are the best online games?