Poppy Strike 2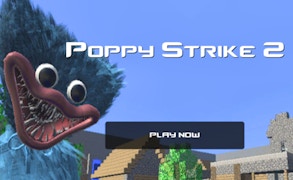 Poppy Strike 2
Description
In Poppy Strike 2, gear up and prepare for intense survival-based action. Set in a Minecraft-inspired world, the game arms you with a vast range of firearms to fend off waves of huggy wuggy dolls. Your primary goal is to survive each barrage, defeat all the foes, and advance to unlock more potent armaments. It's a high-stakes battle against time and enemy numbers!
How to Play
The controls of the game are simple to master. Use the arrow keys or WASD for movements, while aiming and shooting are handled by your mouse. To switch between weapons, use the number keys. Your progress in the game depends on your ability to survive each round. Winning rounds helps unlock new and more powerful firearms.
Tips and Tricks
Prioritize your survival before taking on huggy wuggies. Keep an eye on the wave countdown timer, so you have time to recover and strategize before the next assault. Remember, finding a cover could be as important as firing back! Use your stronger weapons wisely as they can turn tables when you are outnumbered.
Features
Minecraft Themed Map: Explore a well-designed map that pays homage to Minecraft.
Vast Arsenal: Enhance your gameplay by unlocking an array of new firearms.
Huggy Wuggy Enemies: Battle against unique foes who adds fun and challenges.
Survival Gameplay: A test of strategy, wit, and reflexes in a survival-based environment.
What are the best online games?