Pop Ball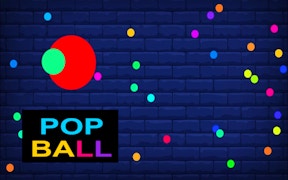 Pop Ball
If you're a fan of ball games, clicker games, and tap games, then your gaming arsenal isn't complete without Pop Ball. A unique combination of ingenious gameplay mechanics and compelling visuals, Pop Ball offers a fresh perspective to what gamers usually expect from action genre.
The main premise of the game is as simple as it is addictive: you tap the screen to generate white balls that then collide with colored balls in an effort to destroy them. The player's ultimate goal - to annihilate all the colored balls in dynamic and thrilling gameplay. But don't let this simplicity fool you. Underneath its casual exterior lies a game deeply embedded with strategic thought.
The potential for intense strategy is highly engaging for those who revel in the challenge of an action-oriented game. Your success in Pop Ball hinges on not only quick reflexes but also smart decision-making. The perfect antidote to boredom, this game rapidly transforms idle moments into exciting gaming experiences.
Another element that contributes to the overall appeal of Pop Ball is its capacity to act as a stress buster. As players delve deeper into its engrossing gameplay, real-world worries cease to exist, proving once again the incredible therapeutic potential of immersive gaming.
In conclusion, Pop Ball successfully leverages the intrinsic appeal of classic ball games and clicker games while incorporating modern elements through its tap game mechanics. It delivers a stellar gaming experience that leaves gamers clamoring for more while promising stress-relief and boredom elimination along the way.
So why wait? Dive into the color-bursting world of Pop Ball today and behold as it challenges your strategic skills while simultaneously revving up your excitement levels!
What are the best online games?