Pixel Traffic Racer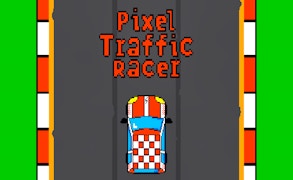 Pixel Traffic Racer
Description
In Pixel Traffic Racer, every high-speed race is a thrilling battle of reaction and strategy. This pixel-art game invites players to navigate fast-paced traffic, pushing their skills to the limit as they swing between lanes and dodge incoming vehicles. High scores, coins, and a variety of cars await those who can keep their cool under pressure.
How to Play
Players can control their car using two control modes: the lane mode, where you click on the lane you want to shift to; or the right-left mode, where clicking on either side directs your car accordingly. The goal is simple - avoid collisions, accumulate points, and unlock new cars with earned coins.
Tips and Tricks
Maintaining a steady pace is key in this game. Over-speeding might get you more points but could also lead to collisions. Also remember, different cars come with different attributes - some are faster while others offer better handling. Choose wisely based on your playstyle.
Features
Multilingual support: Available in English, Italian, Spanish, and French.
Diverse vehicle selection: Choose from vehicles such as taxis, police cars, ambulances and even supercars!
Various upgrades: Boost your gameplay with in-game perks that you can purchase with coins.
What are the best online games?