Pirates Shooter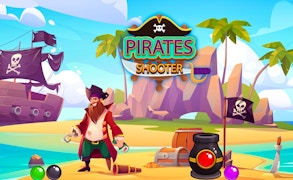 Pirates Shooter
Description
Embark on a thrilling journey with Pirates Shooter, a captivating arcade game that combines the fun of bubble and ball games. Unleash your inner pirate as you maneuver balls into groups to clear the screen and progress to the next level. The enchanting graphics and lively sounds make it a visual and auditory treat. Get ready for an incredible adventure on the high seas!
How to Play
The control scheme for Pirates Shooter is simple but requires precision and strategy. Use your mouse or finger to aim the cannon, release to shoot the ball at a cluster of similar-colored balls, aiming to create groups of three or more same-colored balls. As you progress through the game, obstacles increase and the speed intensifies, making each level more challenging than the last.
Tips and Tricks
For optimum success in Pirates Shooter, anticipate your next move by taking note of the color indicator showing the upcoming ball color. Remember that every bounce off the wall changes your ball's direction, so make use of this when aiming towards distant clusters. Also, clear lower-level balls first for a neat playfield.
Features
Riveting gameplay that tests precision and strategic thinking.
Immersive pirate-themed graphics and sound effects.
Intriguing levels with increasing difficulty.
Color indicator for efficient planning of moves.
Friendly user interface suitable for all ages.
What are the best online games?