Pirate Islands Nonograms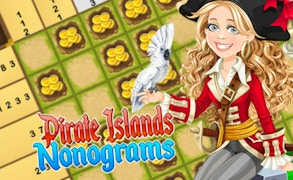 Pirate Islands Nonograms
Are you ready for a thrilling journey to become the most notorious pirate in the digital seas? Then look no further than the ingenious puzzle game, Pirate Islands Nonograms, a mashup of endlessly enjoyable number games and captivating pirate games.
Contrary to traditional brain games, Pirate Islands Nonograms brings a unique twist to the genre. It doesn't just challenge you with complex puzzles, but it also plunges you into a swashbuckling pirate adventure filled with mysterious islands, hidden treasures, and exciting challenges. The life of a pirate has never been this stimulating!
This game offers multiple levels of challenging puzzles that'll surely test your mettle and stimulate your brain games appetite. Completing these levels with the maximum three-star grade adds new elements to your burgeoning collections—a testament to your elite puzzle-solving skills.
The thrill doesn't end there. Each victory brings you closer to obtaining rare elements of collections that are integral for further travel. It's an addictive cycle of victory, reward, and progression that ranks Pirate Islands Nonograms as one of the most Addictive Games.
The more treasures you find, the wealthier your pirate becomes, thus prompting seasoned pirates to keep coming back for more. Remember those albums filled with beautiful picturesque sceneries? They're not just for display; they offer a golden opportunity to pocket rare collection elements essential for your journey.
In essence, Pirate Islands Nonograms is an unprecedented blend of adventure and cognitive stimulation—an immersive experience that brings joy to both hardcore puzzle enthusiasts and casual gamers alike. So set sail on this exciting voyage now and rule the puzzle-pirate world!
What are the best online games?