Pipe Mania Game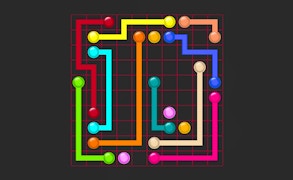 Pipe Mania Game
Unleash the power of your grey matter as you dive into the enchanting world of Pipe Mania Game, one of the most highly engaging brain games currently captivating the attention of puzzle enthusiasts worldwide.
This mesmerizing challenge puts your mental agility to the ultimate test, pushing the boundaries of your problem-solving abilities in an interactive and visually striking digital sphere. The task at hand is simple in theory yet remarkably complex in practice - connect pairs of dots to create a harmonious flow between them. Yet, achieving this with minimal moves? Now that's where the real fun (and challenge) begins.
In Pipe Mania Game, every single one of the 150 intriguing levels brings a unique labyrinth-like structure, a higher level of complexity coupled with an addictive element that keeps you yearning for more. With each stage thoughtfully designed to incrementally challenge your strategic prowess, you'll experience exponential growth in your logic capabilities and problem-solving skills.
Every level is a new world waiting to be explored and solved by you. This game will push you to squeeze out every ounce of creative thinking from deep within your cerebral cortex. It's not about luck or chance; it's indeed a battle against yourself as you strive continuously for efficiency and perfection.
The beauty about Pipe Mania Game is that it's not just a game but also a dynamic mental workout, nurturing your cognitive functions one intriguing puzzle at a time. You'll certainly be impressed by how beautifully this brain game blends entertainment with intellectual stimulation, making this epic journey through pipelines nothing short of an addictive cerebral adventure!
To sum up Pipe Mania Game is more than just another addition to the world of brain games, it's an extraordinary escape into the realm where fun meets intellect!
What are the best online games?
Tags