Pin Rescue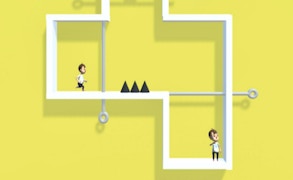 Pin Rescue
Are you an enthusiast of brain games, addictive games, or escape games? Then let me introduce you to an exhilarating dilemma solver that will keep your neurons popping out of excitement - Pin Rescue. This intriguing game offers a unique blend of all these thrilling categories, wrapped in a vivid and addictive package.
In the heart-pounding world of Pin Rescue, your friend is in grave danger and desperately needs your help. You'll be tasked with navigating through perilous rooms filled with concealed traps and menacing creatures lurking in the shadows. The question is, do you have what it takes to save your friend from them?
The beauty of this game lies not just in its intricate puzzle design but also in the urgency instilled by its dramatic narrative. The unpredictable challenges will make your heart pound as intensely as they test your mind. Unlike many other brain games, Pin Rescue is not just about increasing IQ but also about enhancing your decision-making skills under pressure.
If you live for the thrill that comes with unraveling puzzles, then Pin Rescue is just the right one for you among different escape games. It's more than just a digital escape room; it's a narrative-driven experience that requires both smart thinking and swift actions.
This is one of those few addictive games that combine puzzle-solving brilliance with adventure-driven suspense. To put it simply, Pin Rescue goes far beyond what's traditionally expected from a brain teaser, making it an absolute gem in the gaming world. So gear up, brace yourself for unexpected twists and turns, and embark on this heart-stopping journey to rescue your friend!
What are the best online games?