Parking Space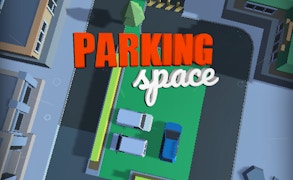 Parking Space
Description
Parking Space is a lively and vibrant puzzle game that will test your strategic thinking and timing abilities. Set in a bustling parking lot during peak hours, the game throws you in a scenario where you need to make your way out of the chaotic parking scene. The game demands quick thinking and precision to efficiently solve each level, providing an addictive gameplay experience.
How to play
Guide your car through the cluttered parking lot using simple directional controls. Aim to reach the exit without running into other vehicles. Swift decision making is crucial as each level ups the intensity, requiring you to maintain a balance between speed and careful movement. Strategy becomes key as you progress, with efficient planning leading to successful exits.
Tips and Tricks
Prioritize moving cars that impede your way first. Analyze the entire lot before deciding on a path to avoid getting stuck. Lastly, master control precision as it can be the difference between crashing or successfully reaching your exit.
Features
Vibrant graphics and smooth controls for an engaging gaming experience.
Rising difficulty levels testing both your speed and strategic skills.
A leaderboard to compare scores and compete with players globally.
A captivating game theme that keeps players hooked for hours.
What are the best online games?