Parking Master: Park Cars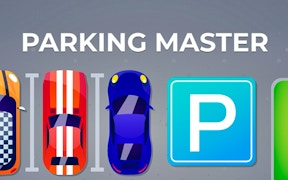 Parking Master: Park Cars
If you're a fan of car games, specifically driving and parking games, then the game 'Parking Master: Park Cars' is an adrenaline-fueled ride you won't want to miss. This engrossing racing puzzle will rev up your heart rate, test your quick thinking skills, and challenge your ability to strategize under pressure.
Parking Master: Park Cars isn't just about speed, but also the precision and skill needed in the art of parking. The premise of the game is straightforward - draw a trajectory with your finger to park an array of vehicles in the right place. But don't be fooled by its simple concept! This game has depth that goes below its deceivingly sleek surface.
This standout among car games has an interesting twist. Carefully strategizing how you navigate each car into its designated spot becomes increasingly complex when there are two cars or more! You'll need to adjust your trajectories meticulously so they don't crash into each other. It's a puzzle, a race against time, and a test of precision all wrapped into one thrilling package.
Parking Master: Park Cars breaks away from the typical mold of driving games, offering an exciting challenge for gamers ready to go beyond the pedal-to-the-metal action and enter a realm where strategy is key. The intricate puzzles presented in every level will have you on the edge of your seat while you maneuver each vehicle into their rightful spots.
If you're looking for an exhilarating addition to your collection of parking games, 'Parking Master: Park Cars' should undoubtedly be on your radar. Its intense pace, intricate puzzles and strategic gameplay make it a must-play for any fan of racing car games.
What are the best online games?