Parking Car Crash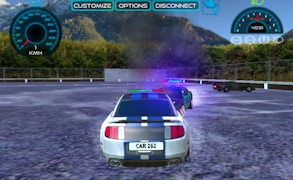 Parking Car Crash
Rev your engines and buckle up for the electrifying experience that is Parking Car Crash. A potent fusion of car games, driving games, simulator games, battle games, and even police games, this title offers a unique take on the racing genre that will leave you white-knuckled and wanting more.
The first thing to notice about Parking Car Crash is how it thrusts players into a brutal ballet of bumper-bashing action. You can skirmish with intelligent AI cars or pit your skills against real players in multiplayer mode. The joy of vehicular destruction is ramped up considerably with maps littered with destructible cars just waiting to be reduced to scrap metal.
But this isn't just about mindless destruction - there's plenty of room for personalization too. You can customize your car down to the tiniest detail: choose your car color, activate Nitro for that extra burst of speed, pick out any of the 45 wheel models or choose from 12 different car models.
Wish you were on the other side of the law for once? Parking Car Crash has got you covered with its exhilarating police mode. Bask in the thrill of chasing down lawbreakers with sirens blaring and lights flashing – it's an adrenaline rush like no other!
This game is only in its Version 1 stage, but it already promises more exciting updates in the future. With daily game play, you can show your support and anticipate more features to make their way into this engaging mash-up of genres.
In conclusion, Parking Car Crash is a high-octane blend of racing and demolition that offers a thrilling ride like no other. Whether you're a fan of car games or battle simulators, this game delivers a high-speed thrill ride that will keep you engaged for hours on end. So get ready to hit the gas and brace yourself for impact!
What are the best online games?