Park Me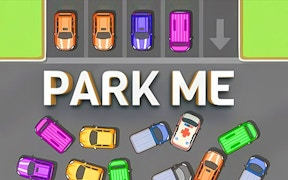 Park Me
If you're seeking a blend of car games, brain games, and match 3 games, then brace yourself for an exciting ride with "Park Me". This enthralling game takes you on a wild journey through the intricate web of car parking, turning it into a delightful and engaging puzzle experience.
In the hustle and bustle of the gaming world, Park Me stands as an oasis for puzzle enthusiasts. It masterfully amalgamates the thrill of motor sports with the intellectual challenge of brain-teasing puzzles, effortlessly creating its niche. The game transforms mundane parking lots into complex labyrinths, raising the stakes higher than conventional parking games.
The premise is intriguingly simple - move cars out of a crowded parking lot. But don't let this simplicity fool you! Just like peeling layers off an onion, every level unfolds to reveal fascinating complications - exit points to observe, barriers to overcome and cars to maneuver. It's a fiendish test of your logical skills and spatial awareness.
What differentiates Park Me from other match three games is that it's not just about finding similar things; it requires analytical thinking and strategic planning. The outermost cars need to be moved first - a constraint that necessitates players to plan their moves in advance and boosts game playing to another level.
The ultimate thrill comes when the last car is saved, giving you a sense of triumph and achievement. Whether you're a car enthusiast looking for a puzzle fix or a brain-game lover who fancies some vehicular action - Park Me delivers on all fronts.
Park Me
, with its innovative gameplay and well-crafted puzzles offers an engaging experience that leaves gamers wanting more. This game is not just about moving vehicles around; it's about navigating through complexities, understanding patterns & sequences – much like life itself!
What are the best online games?