paper io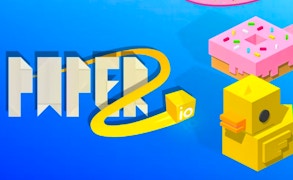 paper io
A lot of games and situations involve creating and defending a territory which is pretty much the entire premise of Paper io. As a colorful cube on a blank canvas, you're trying to spread your own cube goodness across the whole space. While this can be a relaxing exercise, there are other cubes also vying for a place on the blank canvas world. Unfortunately, the canvas just isn't big enough for everyone as spaces will soon eat into each other as they expand. This brings down to the simple question: Will you eat or be eaten? That is assuming that these cubes are eating.
About Paper io
There are seemingly more and more io games every day and this one fits in well with the crowd. While it does have a feel similar to Snake, the rules and variety are enough to make it stand out among the others. It's quite simple and colorful while also being competitive, but it doesn't punish you for getting eliminated. If you lose, it's just an opportunity to start all over again or try things out in a different mode. You also have the option to connect with players you know which can make things uncomfortably competitive if you decide to have a LAN party.
How to Play
Paper io is a clear-cut online multiplayer game that you can control with the mouse. It's all about maneuvering, timing, and taking risks in order to get the highest scores while trying to knock out other players. While the mode that you're playing can change the elements slightly, the general objective remains the same: Cover as much of the canvas map with your cube's color until you can't anymore.
Your cube will move at a constant speed in whatever direction your mouse cursor is moving. There are no weapons, items, or additional actions you can take, meaning that you need to rely on strategy in order to win.
At the start, your cube will emerge from an opaque pool of its color and start leaving a transparent trail behind it. By returning to the pool, you can expand it into the space you've enclosed with your trail. Though you can move safely through the pool, running into your own trail will destroy the cube and end the run. When it comes to other players, you can eliminate them by running into their trails (not pools) and they can do the same to you.
Tips and Tricks
This is a game where you need to take risks in order to progress. You can make small expansions, but then you'll risk being boxed in by other players. Start by making big expansions and when you locate an enemy player, use your pool to regroup then try to bait them out so you can catch their trail.
Paper io Game Modes
As the game continues to grow, it will likely add more game modes to try out. Currently, it has the following:
Classic Mode - As a lone cube, do your best to cover the map in your color.
Teams - Work with other cubes to cover the map in your team's color.
Small Map - There's only so much space, be prepared to fight over it.
Fast Speed - Faster cubes, faster expansions, and faster conflict.
World Conflict - Serve your country on the world map and expand to other territories.
World Map - Play on a world map and try to cover countries in your cube's color.
Battle Royale - Fight to eliminate the other cubes and be the last one standing.
Party Mode - Create a party for you and select players to play online together.
Paper io Customization
Aside from giving your cube a name, you can also customize its appearance. By clicking on the Skins tabs on the left of the Start screen, you can choose a different decal for your cube. Some of them are unlocked by sharing the game on social media while others are unlocked by completing certain challenges. The ones unlocked at the start at near the bottom of the selection and can even change the shape of your cube too.
Game Details
Developer: Voodoo
Platforms: Web Browser (PC and mobile), iOS, and Android
Languages: English, Russian, Turkish, Spanish, French, Dutch, Portuguese, German, and Italian.
Gameplay Footage
FAQs
Is Paper io safe?
The game requires an online connection to play, but the only information you enter is whatever you enter as your player name.
Am I playing against other players?
The consensus states that a majority of the single-player modes have you playing against bots instead of actual people. However, creating a party lets you play with other select players that are online.
Games similar to Paper io
As you can probably guess, this title fits into the io Games category and in Snake Games on GamePix. These libraries have titles like Knifeblades, Lolbeans, Krunker, and Bottle Flip.
What are the best online games?