Pandjohng Solitaire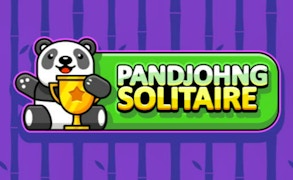 Pandjohng Solitaire
Elevate your gaming experience with Pandjohng Solitaire , a delightful blend of solitaire games and animal games. This extraordinary explorative journey is sure to captivate seasoned players and novices alike, as it brilliantly mashes up classic solitaire mechanics with a refreshing new twist: rescuing animated pandas! Yes, you read that right - adorable, fun-loving pandas!
Boasting a staggering count of 80 levels, each getting progressively challenging overtime, your objective is simple yet engaging – free all 80 pandas. But don't be fooled; the game is anything but easy. Unraveling the puzzle tactically will unlock a story so amazingly interconnected that it adds an essential dash of intrigue to the overall solitaire games scenario.
In this vibrant world filled with the soothing sounds of nature and frolicking pandas, you'll find traces of traditional solitaire at its finest. Jokers, bonuses and strategic gameplay are all key elements here. The unique twist? We have dedicated jokers for each suit – a rare treat seldom seen in common animal games. It's not just about flipping cards; it's about strategy and making every move count.
An added perk - clicking on the pandas! The developers have ingeniously added points system for interacting with these cute creatures. The more you interact, the more you score, leading to a pleasing strike bonus! Jumping into this enchanting Pandjohng Solitaire world is not just about passing time anymore; it's about seizing moments of fun wrapped in rewards.
In conclusion, Pandjohng Solitaire brilliantly intertwines the classic charm of solitaire with the loveable warmth of furry pandas. This perfect fusion makes it stand out from typical solitaire games or animal games. It's not just a game; it's an irresistible adventure that begs you to dive in and explore its wondrous domain!
What are the best online games?