Over the Bridge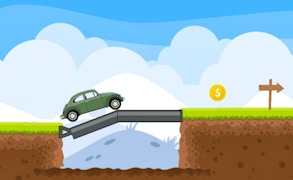 Over the Bridge
Embark on a thrilling journey of structural engineering, strategy, and four-wheeled fun with Over the Bridge, a delightfully challenging addition to the realm of puzzle-oriented car games.
Your brain will shift gears into overdrive as you grapple with intricate building games mechanics, designing robust bridges to assure safe passage for your vehicles. While simple to grasp, mastering this game is akin to piecing together a complex jigsaw puzzle. It requires nimbleness and creativity that punctuates the very essence of compelling brain games.
The beauty of Over the Bridge lies in its perfect blend of simplicity and complexity. The intuitive interface makes it easy for novices to dive in, yet the sophisticated physics engine ensures each bridge presents a unique challenge for even seasoned players.
Fusing elements of strategy, physics-based movement, and creative problem-solving, it keeps you glued to your screen. Addictively fun and endlessly replayable, this game provides hours of mind-bending entertainment.
Aesthetically pleasing graphics couple with dynamic gameplay to produce an immersive experience. As your car journeys through humble beginnings towards more advanced constructions, you'll find your heartbeat racing in tandem with the thrill of level progression.
In conclusion, Over the Bridge delivers a satisfyingly complex adventure in an easy-to-understand package. Its blend of car-themed strategies and building challenges offers a captivating twist on traditional puzzle games. If your brain craves engaging challenges and your heart seeks adrenalized excitement, look no further than this bridge-building bonanza.
No matter if you're a fan of car games or just love flexing those brain muscles with building games, consider Over the Bridge as a great addition to your gaming library!
What are the best online games?