Oil Wrestling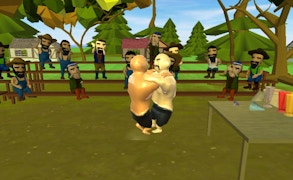 Oil Wrestling
Unleash your competitive spirit and immerse yourself in Oil Wrestling, a game that promises to revolutionize the way you see fighting games. This skill-based game pits players against each other in an unpredictable and adrenaline-filled battle, neatly packaged into a visually appealing traditional oil wrestling tournament.
As one of the highly engaging 2 player games, Oil Wrestling challenges you to master the art of timed attacks. Requiring swift movement and sharp wit, your goal is not just to beat your opponent, but to outmaneuver them with strategic forward, right, and left lunges. This skill game cleverly integrates fun into every aspect of its gameplay, ensuring your entertainment time is packed with exciting bouts of friendly competition.
The thrill of victory in Oil Wrestling is heightened by its competitive scoring system. The first player to earn five scores claims the title of ultimate oil wrestling champion. This intensifies the gameplay, making each match a suspenseful race towards triumph.
Furthermore, Oil Wrestling's versatility extends beyond its thrilling gameplay as it accommodates both solo and multiplayer modes. Whether you intend achieving solo dominance or testing your might against a friend in this two-player game, rest assured that fun is guaranteed.
In summary, Oil Wrestling stands tall as a masterpiece in the realm of fun games and skill games. Its engaging gameplay combined with intuitive controls provides an enjoyable gaming experience that transcends the typical fighting games norm. So step onto the greasy battleground and prove your prowess in this unique thrilling ride full of twists, turns and pure enjoyment.
What are the best online games?