Numberz!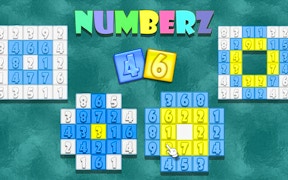 Numberz!
Get ready to ignite your neurons with Numberz! The ultimate meeting point for all puzzle enthusiasts, Numberz! pushes the boundaries of brain games, math games, and number games. If you're an ardent fan of interactive brain teasers, Numberz! brings a new dimension to your gaming experience.
Numberz! is not just a math game, it's an all-encompassing journey through unfathomable mathematical challenges that pit your intelligence against the ruthlessness of numbers. As a player, you'll find yourself enmeshed in this great mathematical adventure that perfectly trains your logic and creates a delightful interplay between fun and learning.
This game is an exhilarating fusion of exciting puzzles and brain-boosting number games. Answering the global call for math enthusiasts, it combines intuitive gameplay with stimulating mathematical concepts. This makes Numberz! stand tall as one of the most engaging brain games.
The added perk of playing online injects an element of competitiveness as you can challenge friends or random opponents to beat your high scores. It's as much about displaying your mental prowess as it is about having a fun-filled gaming session.
If you're on the hunt for free brainteasers to sharpen your mind or merely seeking a unique way to kill time, Numberz! is your answer. Given its captivating gameplay and engaging puzzles, players are guaranteed to have their minds tickled and teased in a way that no other game does.
In summary, if you fancy combining leisure with learning or just need something more than run-of-the-mill number games or math games then give Numberz!—a modern day masterpiece—your undivided attention. Enjoy free brainteasers served on this dazzling platform that offers more than just mindless entertainment—it offers constant engagement in mastering the logic.
What are the best online games?