Number Crush Mania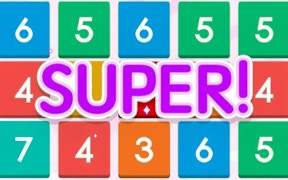 Number Crush Mania
Delve into the world of Number Crush Mania, a renowned, engrossing game that effortlessly amalgamates the best elements of number games, math games, 2048 games, and more into one package. This legendary puzzle game, adored by millions of players globally, is an enjoyable journey into the realm of digits that can be played offline.
The beauty of Number Crush Mania is not only in its stimulating gameplay but also in its vibrant and appealing visual aesthetics. Boasting tens of thousands of levels each brilliantly colored and meticulously designed, the game never fails to captivate with its appeal. If you're a fan of legend number or if you love putting your gray matter to test with brain games, this game offers a unique proposition.
In this thrilling matching adventure, you engage in a quest to crush all numbers, thereby making it an exciting addition to the genre of match 3 games. It serves as an excellent mental exercise wrapped in an engaging premise that keeps adults captivated for hours on end. With Number Crush Mania, puzzle-solving becomes a delightful experience rather than a monotonous task.
In its essence, Number Crush Mania is not just a game. It's a vibrant landscape teeming with numbers waiting to be crushed and puzzles itching to be resolved. Its charismatic allure lies within the power it holds to engage both your mind and senses simultaneously in this number-crushing saga. As such, don't just play it - experience it! Dive headfirst into this engaging world where numerals reign supreme and partake in what's sure to become your next gaming obsession.
Your journey through this captivating math-cum-puzzle universe is simply a click away. So why wait? Start playing Number Crush Mania today and join the ranks of millions who've already discovered their new favorite pastime.
What are the best online games?