Nitro Rally Time Attack 2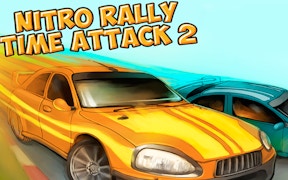 Nitro Rally Time Attack 2
Description
In Nitro Rally Time Attack 2, experience the thrill of classic 80's arcade rally racing, revamped for modern gamers. Race around ten distinct circuits, all set in vibrant and colourful environments. Feel the realistic car handling as you push your vehicle to the limit, with a turbo boost feature to give you that extra edge. The immersive sounds of revving engines and screeching tires enhance this fast-paced, adrenaline-fueled ride.
How to play
Control your rally car with precise movements using your device's controls. Maintain an optimal speed to rev up your engine for the ultimate turbo boost. The goal is to complete each circuit in the least possible time. Progress through different levels by achieving victory in each exhilarating race.
Tips and Tricks
Practice controlling your speed for optimum handling; sharp turns can be tricky. Make use of the turbo boost strategically for overtakes or speeding past difficult sections of the tracks. Remember, every second counts in a time attack race!
Features
15 unique and challenging rally tracks.
Immersive car physics that replicate real rally racing.
Nostalgic 2D graphics with a modern twist.
An engaging audio soundtrack to enhance your racing experience.
Cool sound effects that bring realism to your races.
A nitro boost feature for intense speed bursts.
What are the best online games?