New York Car Parking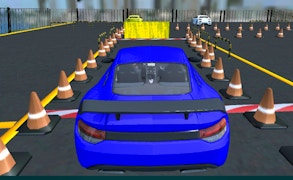 New York Car Parking
Rev your engines, gaming aficionados, for a high-octane ride through the iconic streets of the Big Apple in the enthralling game - New York Car Parking. This exceptional gaming experience neatly packs car games, driving games, and parking games into one cutting-edge package primed for adrenaline-fueled fun.
The developers have enhanced the traditional parking game genre, presenting an incredibly immersive experience for players. With camera angles offering multiple perspectives, both forward and reverse parking are no longer a challenge but an engaging task that ensures you won't easily put down your controller.
This is no casual ride in the park; intoxicatingly complex, New York Car Parking can convincingly make its claim as a hard parking game. The missions brim with gusto, each designed to test your mettle and skill in parking cars in the city's hustling-bustling milieu. The art of precision parking is elevated to a thrilling new height where every level brings its unique challenge, designed to get you firmly hooked.
The gameplay controls are refreshingly simple yet challenging: with WASD & Arrow Keys helping you manoeuvre your car, while Space is there for those necessary emergency brakes. Despite its simplicity, it commands an absolute understanding of these basic controls as it pulls out all stops to make you a master in car driving.
In sum, New York Car Parking offers gamers an exhilarating drive packed with precision and challenge. It's not just about reaching your destination; it's about how beautifully you park your pride and joy at journey's end. So buckle up and prepare yourself for this riveting addition to the realm of car games!
What are the best online games?