Neon Rider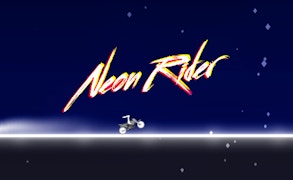 Neon Rider
Description
Experience the invigorating thrill of speed in Neon Rider, a vibrant racing arcade game that plunges you into a world of neon colors. Deck your bike out to your liking, design your road and background, and get ready for the exhilarating race against time itself. Push the boundaries of speed and distance as you navigate through this visually appealing universe.
How to Play
Your goal is to race as far as possible without crashing. Control your neon bike using arrow keys for direction and balance. One unique feature is the ability to switch your bike's color to match the neon road underneath - a feature activated by pressing the assigned keyboard controls. As you progress, roads get harder and require quicker reactions.
Tips and Tricks
Maintain a perfect balance between speed and control. Over-speeding can lead to fatal crashes while going too slow may not get you far enough. Always be prepared to change your bike's color promptly with changing roads - a second's delay could end your ride.
Features
Vibrant Neon Graphics: Enjoy eye-catching visuals that offer an immersive gameplay experience.
Bike Customization: Personalize your bike with various color options available.
Challenging Gameplay: With an ever-changing road design, test your reflexes and adaptability.
User-friendly Controls: Easy-to-use keyboard commands make navigation a breeze.
What are the best online games?
Tags