Move The Pin 2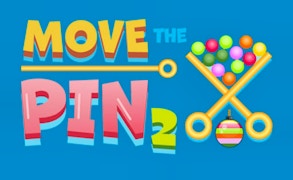 Move The Pin 2
Welcome to the intricate world of Move The Pin 2, a brain-teasing escapade that will leave you hooked for hours. Positioned in the realm of Hyper Casual Games, this masterpiece epitomizes what it means to elevate puzzle gaming to an art form. It's not just a game, but an exhilarating journey that will awaken your dormant intellect, stimulating your grey cells like never before.
In Move The Pin 2, your mission is to fill a glass with vibrantly hued balls. But it's not as simple as it sounds. You're confronted with colorless, grey balls, which you need to artfully paint using a colored bomb. However, trouble lurks around every corner with the inclusion of red prickly pins and devastating bombs capable of wiping out your hard-earned progress.
Adding another layer of complexity, there are blocked foams standing between you and victory in this fascinating vortex of Addictive Games. As such, every move has to be calculated and every strategy meticulously crafted. Mindless clicking won't do the trick here; instead, you must tap into your strategic prowess and showcase a discerning eye for detail.
Fans of brain games will find themselves thoroughly engrossed with Move The Pin 2's challenging levels and interactive gameplay mechanics. Its casual approach maintains an easy-going atmosphere while keeping players raptly engaged with its well-balanced difficulty curve and well-integrated elements.
In conclusion, Move The Pin 2 has managed to raise the bar in the addictive hyper-casual genre by delivering a product that is both enjoyable and mentally stimulating. Embark on this mind-bending journey now - Your next addictive gaming obsession is waiting!
What are the best online games?