Move - Gather your belongings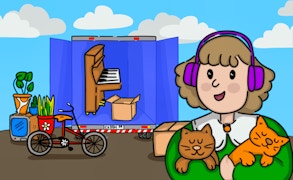 Move - Gather your belongings
Welcome to the enchanting universe of Move - Gather your belongings, a game that transforms every motion into a thrilling puzzle. Your mission: assist the cast of colorful characters in packing their prized possessions and embarking on their adventure.
The game boasts an array of captivating levels, each unveiling a new character with individual objects that need to be carefully packed into a moving vehicle. It's like Tetris with a twist - you're not just stacking blocks, but arranging personal belongings with sentimental value. The more efficiently you pack, the higher your score, adding a sense of urgency to every move.
The gameplay presents a nostalgic homage to classic Tetris-style puzzles. As you advance through the levels, you are challenged by shapes reminiscent of logical figures from the iconic tabletop game, forcing your brain to strategize and visualize spacial arrangements in innovative ways. Every item has its place, and it's up to you to puzzle it out.
This ingenious merging of brain-games with the familiar mechanics of Tetris creates an immersive and satisfying experience. The game stimulates strategic thinking and spatial awareness, while also providing an engaging narrative journey through each character's unique story.
Embark on this exciting adventure today and put your packing - or should we say puzzling - skills to the test! The world of Move - Gather your belongings is waiting for you to decipher its intricate Tetris-style riddles and revel in its charming, character-driven narratives.
In conclusion, if you're searching for a game that perfectly blends brain-games and Tetris-styles puzzles, look no further than Move - Gather your belongings. This is not just another typical Tetris clone; it's an innovative spin-off with so much more to offer.
What are the best online games?
Tags