Mouth Shift 3D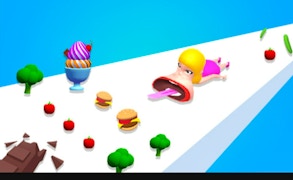 Mouth Shift 3D
Immersing yourself in the endlessly mesmerizing world of Mouth Shift 3D, a stand-out entrant in the addictive games category, feels akin to an exhilarating sprint down a track that's both familiar and constantly surprising. This riveting 3D arcade game effortlessly melds intriguing complexity with hyper casual simplicity, propelling you into a captivating universe of non-stop fun and excitement.
The primary objective of this running game is deceptively simple — control your character to consume various kinds of food by masterfully manipulating the shape of its mouth. Yet, it's not as easy as it appears. The true zest lies in simultaneously dodging road obstacles that pop up unexpectedly throughout your journey. The more you play, the thicker the plot gets — it's this unpredictability that makes Mouth Shift 3D such an engrossing contender amongst other addictive games on the market.
The striking visual appeal of Mouth Shift 3D is undeniably one of its strongest suits. With delicate attention to detail and aesthetically pleasing graphics, it offers a visual treat that goes hand-in-hand with its multi-layer gameplay. Every single level you surpass reveals increasingly appealing graphic details, making your gaming experience all the more rewarding.
Don't be fooled by its idyllic simplicity though! Like a deep river with calm surface waters, Mouth Shift 3D boasts a rich undercurrent that keeps you hooked. This unassuming feature is precisely what propels this 3D running game into the realms of addictive hyper casual games.
In sum, whether you're seeking instantaneous amusement or prolonged engagement, Mouth Shift 3D serves up an enticing platter filled with ample entertainment, captivating visuals and constant surprises - making it a compelling choice for hardcore gamers and casual players alike.
What are the best online games?